Kamakura Noh Theatre




< About us >
Kamakura Noh Theatre has established in 1970.
We presents Noh and Kyogen performances several times a year on the real wooden traditional stage.
Encounters with "Noh", the traditional Japanese performing art and Intangible Cultural Heritage, at Kamakura Noh Theatre.


< Noh mini museum >
We also run small Noh exhibition to introduce the world of Noh.
Open: Monday – Friday 8:00 – 4:00
(Except performance day)
Admission: ¥500 for adults, ¥300 for high school students or younger.
・Exhibition of Noh masks and fans with English description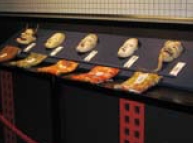 ・Wearing Noh masks and costume
・Step on the wooden stage and take photos
Postal code 248-0016
Kanagawa ken Kamakura shi Hase 3-5-13
Tell 0467-22-5557
<<Map>>